Brazilian Jiu Jitsu
A martial art that focuses on ground fighting.
There is no hitting allowed in Brazilian Jiu Jitsu.
Brazilian Jiu Jitsu players compete by using controlled techniques including joint locks and chokes on their opponent, causing him/her to submit by tapping.
In Brazilian Jiu Jitsu as a sport, you win by submitting your opponent or by having the most points. You gain points by getting into specific advantageous positions. Brazilian Jiu Jitsu is a global sport and its' popularity in Ireland is growing more and more. There are dozens of national Brazilian Jiu Jitsu competitions which The Arena regularly competes in.
The benefits of practicing Jiu Jitsu are
fantastic exercise that will keep you fit and healthy
self defence knowledge
trains your mind and body at the same time
improves your confidence
trains your ability to focus
improves your mood
a sport that you can compete in well into your 40s
you can eventually earn a black belt
Give your child confidence
We have worked with many children who have gained in confidence from training at The Arena. We have had students who were but are no longer bullied.
All of our regular students compete and have won medals in national competitions.
Earn a black belt
Teach your child the value of working hard over a long period of time to achieve their goal. At The Arena, we do not hand out black belts just for good attendance. All Brazilian Jiu Jitsu students are required to reach a certain standard before receiving a higher level belt. Give your child the experience of earning something with hard work.
We don't play, we train.
Just because we are training children doesn't mean we are only here to have fun. We train our kids properly. We teach them the techniques and they practice what they've learned. They have fun when the can use what they've learned and they can see that they are improving little by little.
The BJJ Belt represents more than just your rank in Brazilian Jiu Jitsu – it represents hours on the mat, blood, sweat and tears, the journey your have been on since the first time you stepped on to the mat. The BJJ Grade Belt from Tatami Fightwear each belt is designed to the highest standards and come complete with strips rank tag.
These belts follow the new 2012 IBJJF kids belt rank system below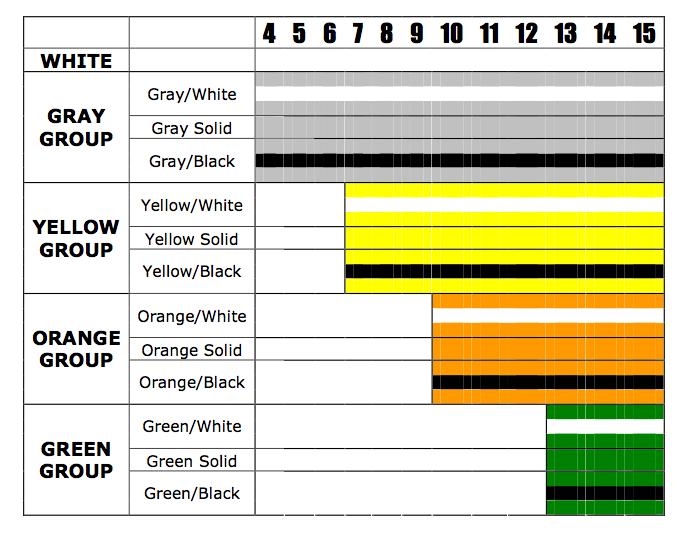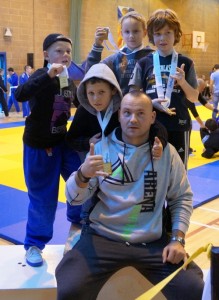 Some great shots from a DUBLIN/CORK  competition[espro-slider id=222]
From the parents of our Kids Brazilian Jiu Jitsu Classes.
Michelle & Michael Murphy
if you are thinking about sending your child/children our two boys aged 8 and 6 are in team warriors Piotr is their trainer and they love both him and their training they learn jiu-jitsu kickboxing and judo and hate missing any classes ,it helps them to keep fit and they also have lots of fun there, I would highly recommend it if you are thinking about sending your child/children as it has also helped to build my boy's confidence to a level i couldn't do on my own.
Sean Jordan
its great for a child of his age not only is he more motivated but the level of fitness has increased. its a great way for him to learn respect and confidence in a safe and well supervised class. he cant be kept away from training the difference in him is brilliant I would recommend it to every child.
Philip Tobin
Both of my daughters, aged 4 and 6, are being coached judo by Peter at arena . Both I and the kids find Peter an excellent coach. Each session is a fun filled hour, as a lot of the coaching is carried out through games, which the children really enjoy. They learn very quickly through this method of coaching, and always look forward to the next class. The judo takes place in a very safe environment with the floor and walls of the gym being fully matted. The cleanliness and hygiene levels at the gym are excellent, and to the highest standard. As a parent I find Peter very approachable and would certainly recommend him as an excellent judo coach.
Noel Furlong
I am 43 years old and myself and two son's one is 16 the other is 7 train with The Wexford Warriors under the instruction of Piotr Bajon. We all enjoy this very much and with such a range in ages there is something for everyone. My 16 year old son would be the first to admit that he had become a bit lazy and he had put on weight he is like a different person now his fitness is up he has lost weight and has gone from training 2 nights a week to 4 or 5 nights now. He has got into a routine its home from school something to eat homework done (without been told) gear ready and off to training the play station is getting a rest too. He even puts his training gear out to be washed when he comes home. My 7 year old trains with Piotr 2 nights a week doing BJJ he can't get enough of it and gets disappointed if it is not a training night. Before he started with Wexford Warriors his concentration would not have been very good. I mentioned this to Piotr before he started and I could not have gotten a better response he told me he would work with him and see how things would go. The results have been great in a very short space of time there has been a marked improvement in his concentration and this is also a great help with school. Due to work I cannot train as often as I would like but I find it great when I can get there. My fitness level has gone up I have lost weight and have gained new friends as all the arenas are a great bunch to train with. To sum up I would have no hesitation in recommending Piotr to anyone interested in training in something a bit different from the normal run of the mill training. His teaching methods are excellent especially with children he has the ability to get the maximum out of everyone young and old and I believe this is a great gift to have. The gym is kept to the very highest of standards the hygiene and cleanliness is second to none. I have great respect for Piotr I find him very approachable he always has time to talk if you have any questions or worries and in the time I have known him I would not only class him as an excellent instructor but also a friend.